Like every year, the holiday season is just around the corner with Black Friday and Cyber Monday. Probably this is best time to purchase Joomla extensions, themplates or try new services therefore companies are eager to give limited time offers to gain more customers.
There is a lot of great deals and we don't just want you to save money. We also want you to save time! So we've picked you the best Black Friday and Cyber Monday deals in 2016.


Our list below will be updated every day so don't forget to bookmark this page and check back here to discover the latest deals!
Joomla Extensions
Smart Slider 3 PRO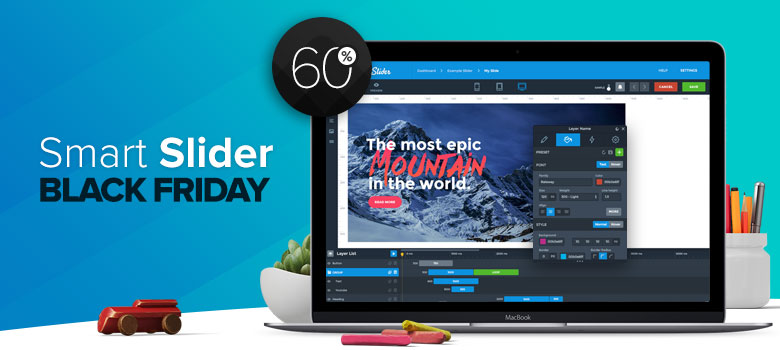 Description: Smart Slider 3 is a new and intuitive Joomla extension to create sliders and blocks which was never possible before with any similar plugin. You don't have to think about any technical details, the drag&drop interface will help you. You won't believe how easy it is. For only 4 days, we dropped the price of the Smart Slider 3 PRO Single Domain to $10. Over and above if you have an active license then you can find a personal surprise in your mailbox.
Date: Friday 25th November till Monday 28th November
Coupon: BLACKFRIDAY2016 – 60% off for Single Domain
DJ-Extensions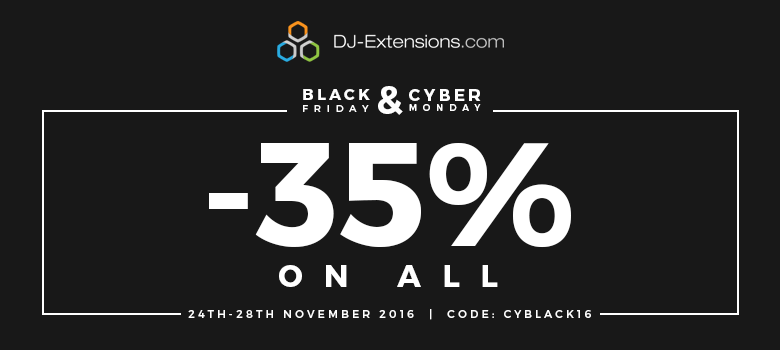 Description: 35% OFF: Black Friday/Cyber Monday discount!
We've decided to make one big sale with 35% OFF for all: single extension subscription, apps, developer plans and bundles!
Just use the special discount code: CYBLACK16
This sale starts on 24th November 2016 and ends on 30th November 23:59 GMT+1.
Browse best Joomla extensions and find the deal for you!
Date: starts on 24th November 2016 and ends on 30th November 23:59, GMT+1
Coupon: CYBLACK16 – 35%
Joomla Templates
Template Monster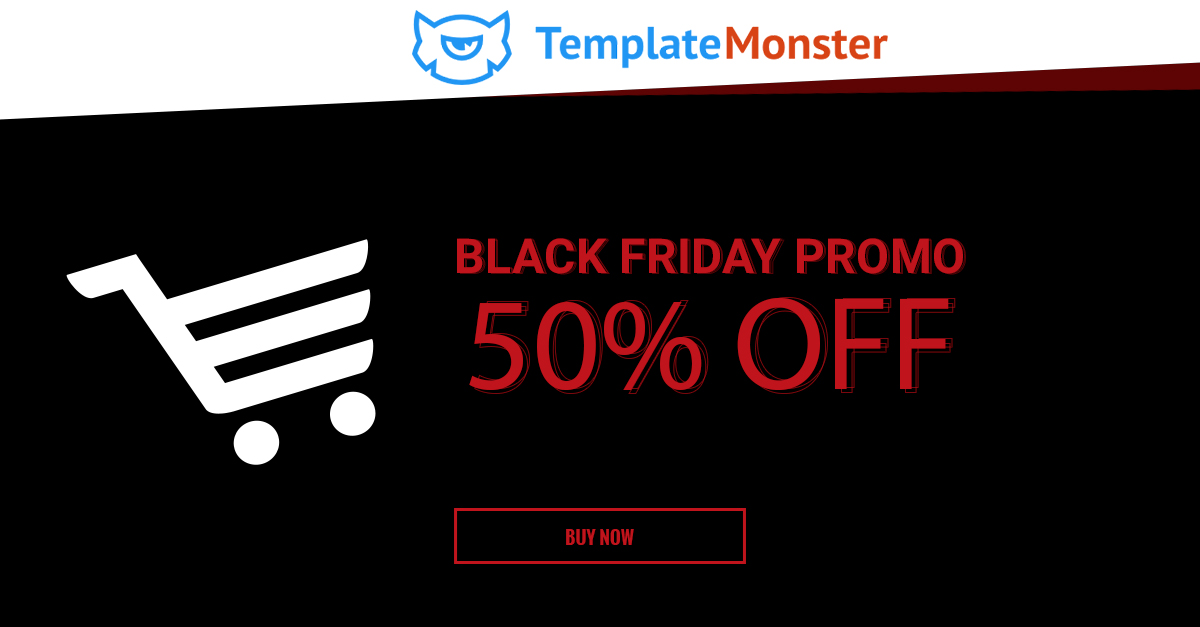 Description: TemplateMonster is running a huge Black Friday sale! Visit our website and get 50% off on all ANY Template! Hurry up! The offer is active from November, 24 until November, 30. Moreover, from 1st until 6th of December we will run Cashless December – get 50% OFF on ANY template!
Date: Friday 25th November till 30th November, 2016
Coupon: Coupon is not required.
Shape 5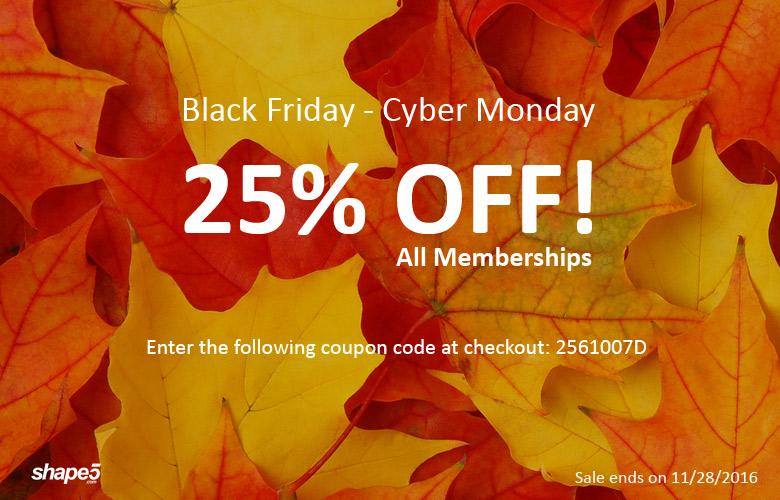 Description: Since 2007 Shape5 has created some of the best Joomla templates, Joomla extensions and WordPress Themes available on the web. With 296,000 members we are one of the longest running Joomla Template and WordPress Theme Club Providers. We offer dozens of diverse and
aesthetically pleasing products to pick from. Be sure to take advantage of our Black Friday through Cyber Monday sale with 25% off all our products! Just enter the coupon code: 2561007D at checkout.
Date: Friday 25th November till Monday 28th November
Coupon: 2561007D – 25% OFF
Joomla-Monster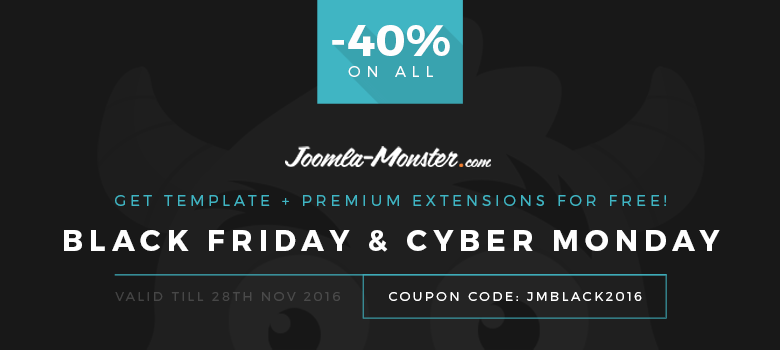 Description: Try high quality Joomla templates with 40% discount. Flexible solutions with premium extensions included!
Date: from 25th to 28th November.
Coupon: JMBLACK2016 – 40% OFF
Joomla Services
Cloudways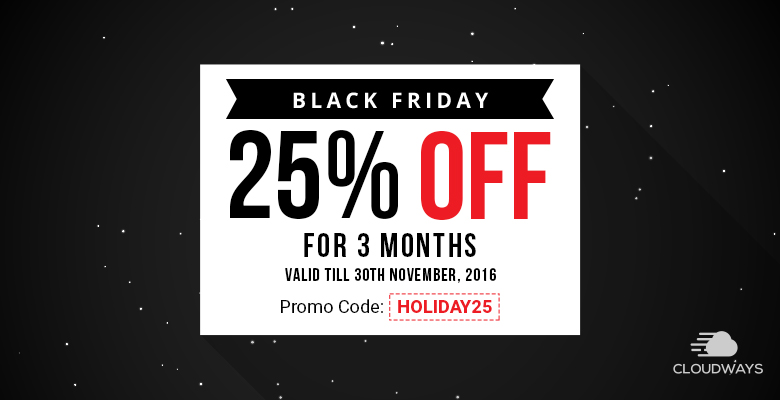 Description: This Black Friday, you can get on board with one of the best Managed Cloud Hosting Platforms at 25% OFF for 3 MONTHS! Considering the benefits your hosted web application can get from this Platform, this is a MUST HAVE deal! Just use the coupon code "HOLIDAY25" and avail 25% OFF on your invoice of next 3 months!
Date: It's already live and running until the 30th November.
Coupon: HOLIDAY25
JAMP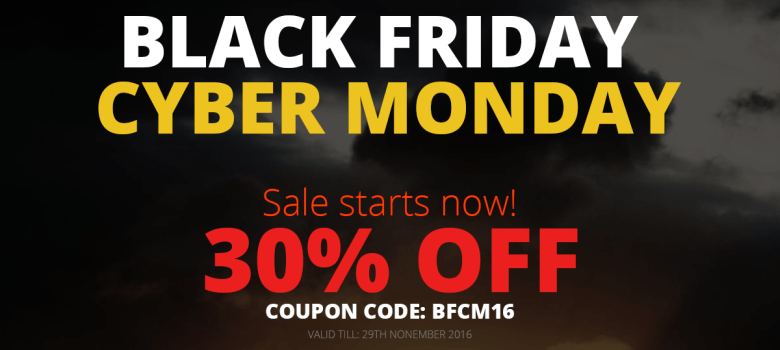 Description: JAMP local server will help you run Joomla! on your computer in few steps. Make your website locally and at the end of the design stage put it on the Internet and show it to the world.
JAMP supports PHP 5.3, 5.4, 5.5, 5.6 and 7. You can switch the interpreter version on the fly without program restart.
Thanks to the automatic updater active subscribers have access to all new releases of JAMP. The update is performed in the program – there is no need to download the new version from the website.
Date: from 23th November to 29th November 2016
Coupon: BFCM16 – 30% OFF
Send Your Deal
In our list, you'll find the best WordPress theme, plugin and service offers available only on Black Friday 2016. But if want to add your deal to our list please drop us a mail with the following details: image banner (780px wide), description (max 500 char), date, coupon or special link. Please don't comment your deals because we won't publish it.