Flexible Design
Experience total control over the menu's settings and design. Reliable, flexible and intuitive backend. You don't have to think about any technical details, the interface will help you. You won't believe how easy it is.
Font & Style Manager
Change all the details that really matter in typography and style easily. You can pick fonts and styles for your layers, navigation & other elements.
Theme Design
Our theme builder makes it easy for anyone to design beautiful menus in minutes. Every theme comes with own settings and with own skins.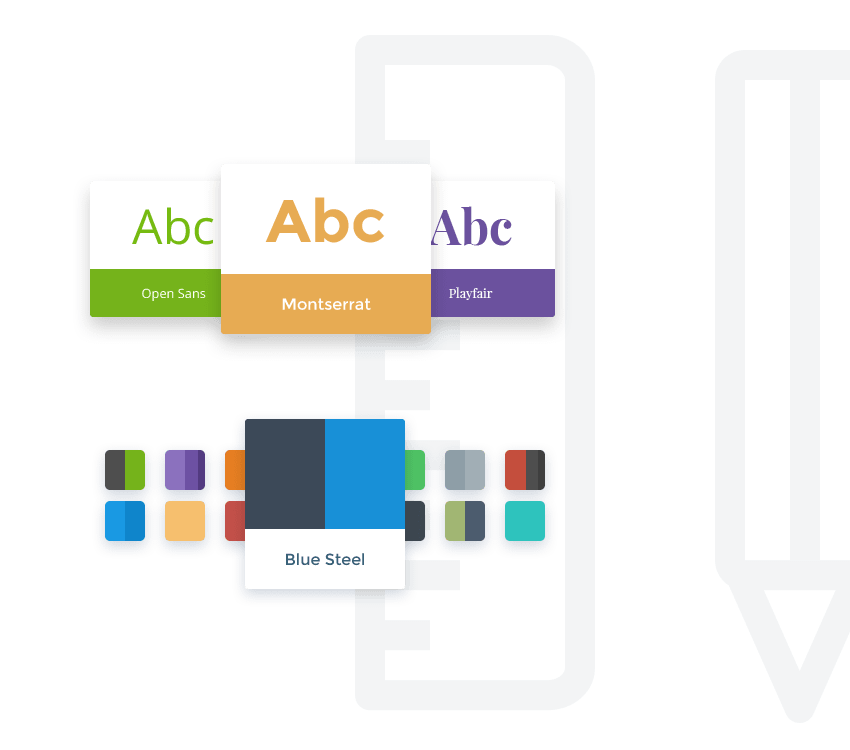 E-commerce Extras
The success for your webshop largely depends on the navigation system. Your future customers want to quickly find and browse among your products. It's time to grow your business with the new dimension of navigation. Specialized features for ecommerce? Sorting the products into categories? VirtueMart, WooComerce,redSHOP, HikaShop, Tienda support? No problem.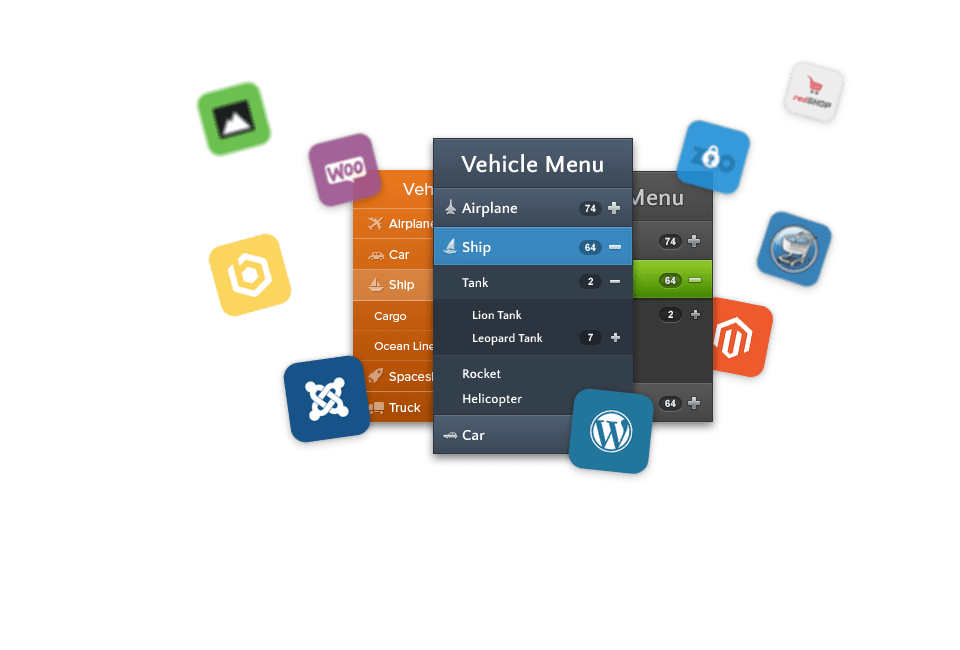 Technical Details
Requirements
Joomla 3.x, WordPress 3+
Compatible Browsers
IE9+, Firefox, Chrome, Safari, Opera
Features
5 fully customizable themes and skins
SEO components support
Translation support
Integrated font manager with Google fonts
Uses caching for the menu tree
Varied animation types for the menu
Joomla category and article integration
VirtueMart 1 & 2 & 3 integration
MijoShop integration
redSHOP integration
Tienda integration
HikaShop integration
JoomShopping integration
K2 integration
Cobalt CCK integration
ZOO integration
Adsmanager integration
Easyblog integration
SobiPro integration
PhocaGallery integration
JomDirectory integration
WordPress integration
WooCommerce integration

Accordion Menu is delivered with very detailed documentation, describing all settings with screenshots and examples.
Most Powerful Features
All of our products include the same reliable, structured codebase. This means that all of our extensions come packed with a host of awesome features right out-of-the-box.

High Performance
Take full advantage of the latest and greatest web technologies. These web standards offer more flexibility in creating extensions.

User Friendly Backend
Use settings to get up and running in minutes and start customising your new plugin with just a few clicks of the mouse.

Cross-Browser Support
Our extensions are fully compatible with all modern browsers like Chrome, Firefox, Opera, Safari and Internet Explorer.

Excellent Help
Interactive online documentation, video tutorials and our premium-class support is ready to help you! Feel free to contact us!

Fully Responsive
Our extensions adapt perfectly for all monitor resolutions, mobile devices and tablets. Enjoy the result in any environment.

High Quality Code
JavaScript and PHP files are in a perfect synergy. Provides increased speed and performance without any theme or engine conflicts.
Get Started with Accordion Menu
Purchase a license below and start creating next generation accordion menus in minutes.
Personal

$

30

Business


$

50

Lifetime


$

100

Pricing Options
Domain License
1
5
Unlimited
Support/Update Period
1 year
1 year
Lifetime
Renewal Fee
$10/year
$10/year
One-time payment
Platform
All (2)
All (2)
All (2)
Usage Period
Unlimited
Unlimited
Unlimited
Priority Support
Optional
Optional
Optional
Buy Now
Buy Now
Buy Now
Personal

$

30

Domain License: 1
Support/Update Period: 1 year
Renewal fee: $10/year
Platform: WordPress and Joomla 3.x
Usage Period: Unlimited
Every feature enabled

Buy Now
Business


$

50

Domain License: 5
Support/Update Period: 1 year
Renewal fee: $10/year
Platform: All (3)
Usage Period: Unlimited
Every feature enabled

Buy Now
Lifetime


$

100

Domain License: Unlimited
Support/Update Period: Lifetime
Platform: All (3)
Usage Period: Unlimited
Every feature enabled

Buy Now
The prices exclude TAX. If you are EU company, please use EU VAT number for 0% TAX.
Frequently Asked Questions
What is the difference between the payment plans?
Subscription model: After paying the first necessary investment you have to pay a lower amount in every year. In exchange you get continuous big amount renewal discount.
One-time payment model: After a one-time payment you get a fix period for download, support and update. After expiring your access you won't get any renewal discount. So if you would like to get access for the latest version and all of our services, you have to purchase again the whole bundle. Lifetime package never expires so you will be able to download it any time in the future.
Important: The subscription model is not equal to the membership model. If you would like to use the Smart Slider and the Accordion Menu too, then you have to make separate purchase.
Which payment model does fit exactly for my needs?
The biggest difference between the bundles is the number of domain license and the length of download, support and update period. In the light of this, please check the pricing table in detail. The subscription models are much more favorable.
What payments do you accept?
We currently accept payments with Credit/Debit Card (Visa®, Mastercard®, American Express®, Discover®, JCB®), check, money order, purchase order or PayPal for Subscription models. And we also accept bank transfer from specific countries but only for the One-time payment models.
Which installers are contained in the bundles?
During your download period you have access for all Joomla modules in the bundle. (Joomla, Virtuemart, K2, redSHOP, Tienda, Hikashop, JoomShopping, MijoShop, AdsManager, Zoo and Cobalt CCK version) Last but not least all bundle contains the WordPress plugin installer.
What are the steps of the purchase?
After choosing and paying the bundle you will get an email with a download link. Be sure that our email is not in your spam folder. If you have any pre-purchase question just write us.
Is there any discount for existing members?
Yes, but it is contained in the subscription payment model. (This discount can reach even the 80% of the price.) In addition you get a 30% off discount coupon code after your succesful purchase.
Do you plan to release Accordion Menu for Joomla 4?
No, we do not plan to release Accordion Menu for Joomla 4. Accordion Menu is compatible with Joomla 3.x only.
What happens when my download period expires?
If your download period expires, you can continue to use our products, you have downloaded during your download period. However you will not be able to access new releases, updates and support. (The subscription model ensure continuous access.)
After my download period expired, how can I reactivate my account?
Basically, there is no option for that, because the one-time payment model contains a fix download period without reactivation option. In the subscription payment model there is no fix download period, it can not expire, because the access is continuous. There is one exception, if you cancel the subscription. In this case you have to buy the whole bundle again.
Is the renewal fee automatically charged in subscription model?
Yes, but this option can be cancelled anytime. Also before charging the fee you will get a notification email.
What does site license mean?
You can get support on as many concurrent sites as your licenses allows.
And what is about the TAX?
Our payment provider located in USA and will calculate the TAX based on your country. If you are EU company, you can use EU VAT number for 0% TAX.
Can I re-distribute Accordion Menu license?
No this is prohibited. Please take a look at our Terms of Service.
Do you have an affiliate program?
Yes we have. You can earn 30% commission on each successful sale. Our program is free to join, it's easy to sign-up and requires no technical knowledge.
What kind of license applies to the modules?
Version 2 or newer of the GNU General Public License.