Today I would like to announce the launch of our first major version of Smart Slider! The Smart Slider 3.1 Supernova is a significant step forward and in this article I want to take you behind the scenes and show you the latest features , enhancements and improvements.
Our goal in this version is to improve the process of creation through Smart Slider without the need for knowing how to code. After talking to thousands of our customers and researching how they work, we came to the decision that it was time to go back to the drawing board. While Smart Slider 3.0 was already an invaluable tool in the arsenal of many people, we knew we could make it even better. So, this version is mostly about making the core building experience fast, simple, and efficient. Let's take a look at all the new features the Supernova upgrade has to offer.
UI Revamp and Refresh
One of our biggest changes in Supernova was the removal of the whole sidebar, which means we have to figure out completely new process for slide editing. In the past, many people with smaller screen size experienced difficulty with sidebar layout. But now, instead of navigating between the sidebar's tabs, you can seamlessly handle everything in one window without losing any focus. This new layer window is a super handy tool, it allows you to add content, change design, add animation or simply resize instantly right before your eyes. The final result is super sleek and clear, no more ovarlays, countless tabs or buttons.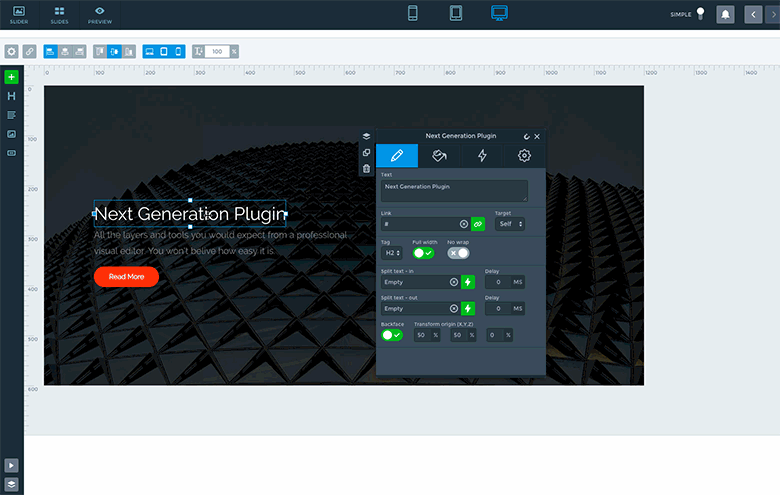 We've also reimagined the layer addition interface, giving you a cleaner, more intuitive interface. Adding content to your slider couldn't be easier. The most often used layers have a fix shortcut, but with the green plus icon you can browse between all layers and layouts. (And new ones rolling out soon.)
Supernova is an astronomical event that occurs during the last stellar evolutionary stages of a massive star's life.
The new slide list and layer list interface have been re-built from the ground. The new UI here brings core features to the forefront, meaning the tools you work with the most are immediately accessible. With bulk actions, multiple selection and grouping you can speed up your design process radically.
What's new in 3.1 Supernova?
Sooo much. We've made over a dozen improvements and features both under the hood and on the editor to help you create an unforgettable, modern website. Here is a shortened list what we've added to this version:
Completely new slide editor interface
New Slides view with bulk actions
New layer window
Design presets
Layer Animation editor from the layer window
Groupping and multiselect for layers
Layer rotation
Gradient background and overlay
Tooltips
Guides for the canvas
Improved default and autocomplete values
Parent picker with wizard
Dozen smaller improvements and fixes
We really haven't cut a single corner in putting this version together for you! And we exactly know that we're where we are today because of you! In addition, your feedback has a direct impact on our roadmap so thank you for helping us along the way!
What's Next?
We do expect 3.1 to be released in the next weeks. If you want, you can join the beta right now. Today I get to show you the present of Smart Slider. Undoubtly, it's a huge step forward but the best part is that this is only the beginning. After the official release we would like to extend weekly with smaller patches for example:
New dashboard UI
Better slider creation process
New layers and controls
New layout system
In the following weeks we're going to write new detailed posts about the biggest features of the 3.1 Supernova. Please be sure to follow us on Facebook and subscribe to our newsletter to stay up to date on all that is happening. We do our best to keep you informed of all that is going on.
Bright new future
This version is simply the beginning of an amazing product that is going to continue and get better and better. In the next year we would like to release our second major version. The code-name of this project is Protostar.
Protostar is an early stage in the evolution of a star…
Even more, if your are open-eyed then you can watch a little spoiler about the next version in the sneak peek video. We'll keep working day in and day out to help you create better websites, and we always love hearing your feedback on what you'd like us to build next.