We are already demonstrated our abilities in the Joomla world with Smart Slider and Accordion Menu. Now we would like to extend our territory to the WordPress too, because we have enough experience to develop and maintain professional plugins and extensions for both platform, so we launched our new business, the Nextend.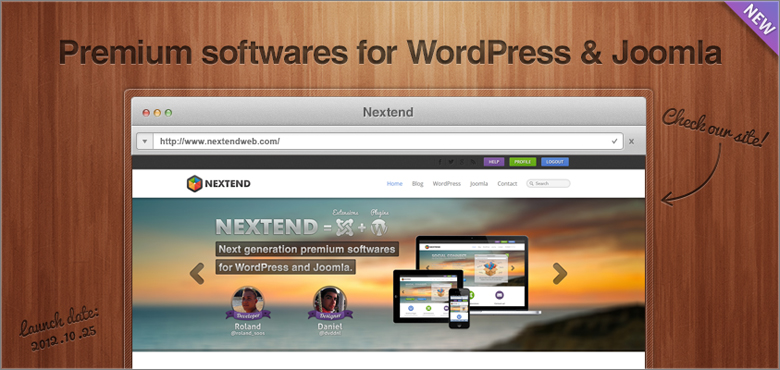 Who are we?
We are a team with professional skills and huge ambitions. When we are out of ideas, we will write more about us, but it won't be tomorrow.
What is Nextend?
Quality, reliability, experience, innovation, support, hobby, passion, vocation, some other good sounding words and our every single day. We are working to set a new standard both in quality and design for WordPress and Joomla.
What is the future?
We will rule the world! Just kidding… In this year we would like to create some free plugins for Joomla and WordPress. The first one is a social login and register plugin for WordPress, which will support a very fast sign in process for Facebook, Google and Twitter users. The other extension is a secret, but we will hint some information and screenshots on our Twitter and Facebook channels!
In 1st January, 2013 we are going to take Smart Slider and Accordion Menu and the extensions will continue under the Nextend name.
How can you reach us?
Roland (Developer) – Follow @roland_soos
Daniel (Designer) – Follow @dvddnl
Don't forget to Follow @nextendweb and like our Facebook page to get notified about news!