Since 2013, Nextend has offered a powerful tool for building slides visually in the browser. But we realized that we could create better software without compromises. So we decided to make quality design more available to everyone. I'm incredibly excited to finally share the results with the world.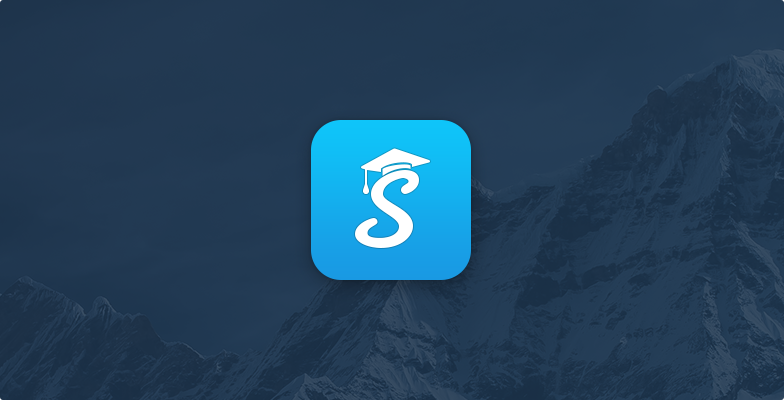 Designers and developers, it's time to meet Smart Slider 3, our first next generation software.
Quality is our best business plan
Smart Slider 3 is the result of our 16 months of insane hard work and fun. Over the past months we've talked with hundreds of amazing people and learned from them. What we've learned has allowed us to constantly improve Smart Slider 3, making it better each day. We have shipped over 150 software releases this year with 7 major updates. Our goal is to produce a truly next generation design tool for your favorite CMS.
What does next generation mean to us? It means that you define both how content is structured how it looks and how it behaves on the slider. Beautiful inside out, intuitive and user friendly. All in all the easiest and fastest way to create responsive animated sliders and blocks.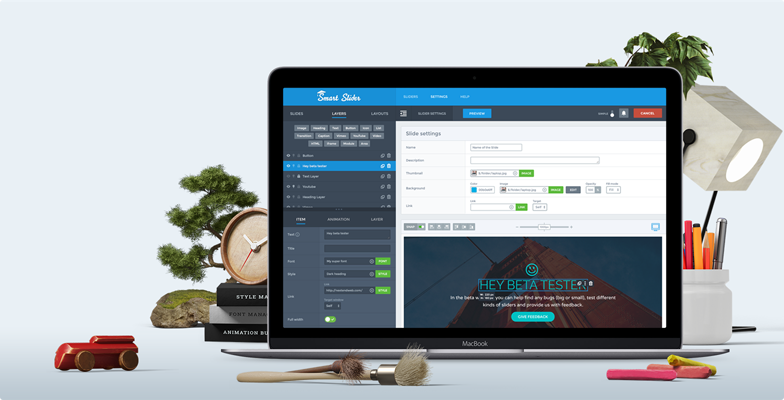 New, new and new
It's not just the next version; it's the total re-launch of our brand. With Smart Slider 3 you have more power and more control than ever before. There are plenty of new features and elements to discover, so let's see a short introduction.
Redesign
Our goals were simple: Consistent and rigorous design patterns. Better navigation. Simple learning curve. New visual identity which fits in with Joomla, Magento and WordPress but also has its own personality. Plenty of usability test to make data-driven design decisions. (navigation flow test, click test, five seconds test and uncountable interviews) This process has been all about improving the user experience.
New Dashboard, Slider and Slide page
Totally new look and feel with a refreshed design and new features. We've also re-imagined the slide creation process, now it's a super clean and effortless action. You can add image, video, article, static, dynamic and empty slide with one click. Even more you can mix the different types of slides easily. Also we've implemented over 140 small and large slider and slide settings.
Features: New slide creation process, bulk actions, notification center, expert mode, better touch control, optimized performance.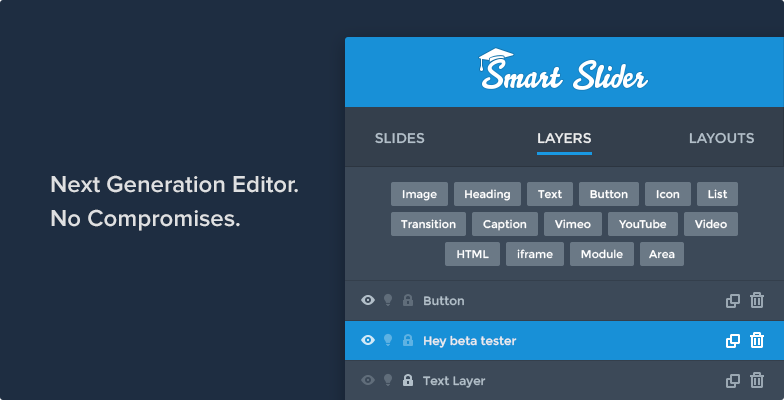 Next Generation Editor
All the layers and tools you would expect from a professional visual editor. You don't have to think about any technical details, the drag&drop interface will help you. You won't believe how easy it is. 16 awesome layers are ready to build any kind of content that you need.
Features: New layer list, new font and style manager, smart snap system, alignment guides, layer linking, layer mask, device specific content, layout history.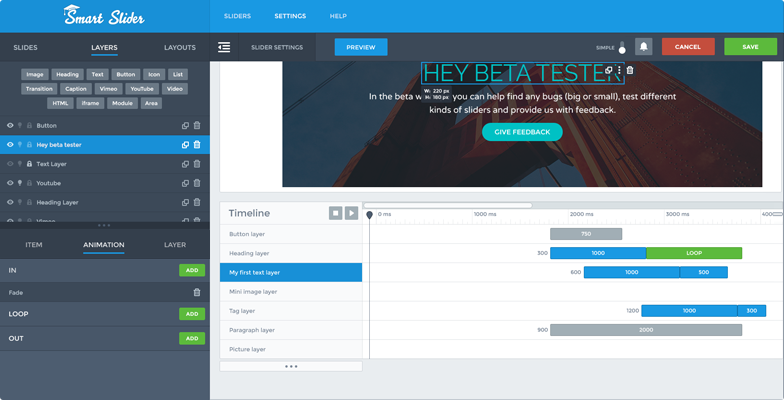 New Animation Engine
Powerful layer animation system to give layers motion and transitions. It comes with 40+ built-in layer animations in 3 types: in, out, loop. The possibilities of what you can build are endless. Even more you can create animation chains or trigger custom events in response to actions like mouse clicks. With the interactive live timeline you can set every animation details easily in a minute. Oh and it's just the cherry on top because we have a split text animation builder, a background animation system and a Ken Burns effect where you can change the focus point.
Features: In, out and loop animation builder, event manager, interactive live timeline, split text animation builder, background animations, Ken Burns effect, parallax effect.
Varied Control Elements
With a fully customized arrow, bullet, thumbnail, bar and indicator, Smart Slider 3 lets you create any kind of slider. Combine the included control elements to obtain a unique experience.
Features: New control elements, easier positioning, interactive arrows, different thumbnails, full screen mode.
Perfect Responsive Solution
Switch your canvas to different device mode and optimize your content for the resolution. Your site can be enjoyed in any environment, be it a mobile, tablet or desktop.
Features: Different slider size and content for devices, unique responsive mode settings, optional adaptive sizing, layer linking for the perfect position, font-modifiers for the best readability.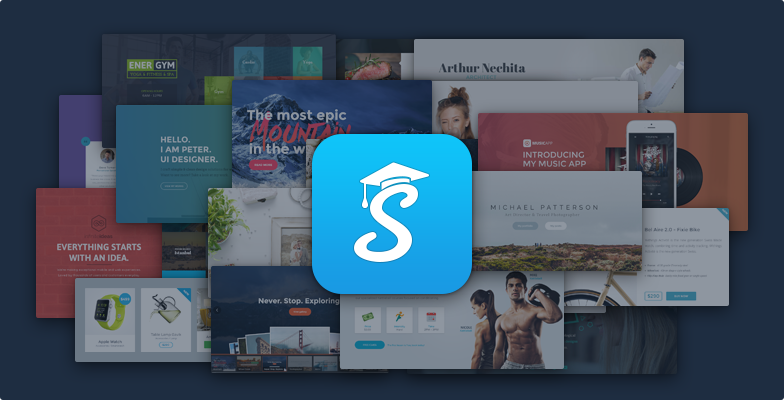 Beautiful Sliders to Start
Start with a blank Slider or choose from a variety of beautiful samples. 100+ pre-made slides with super easy one click installation.
New Slider Type: Carousel, Block
The Carousel slider is a type for cycling through slides, also it has an unique responsive behavior. The block type contains just one slide, basically it's for a simple presentation, where you can create just one scene with animations.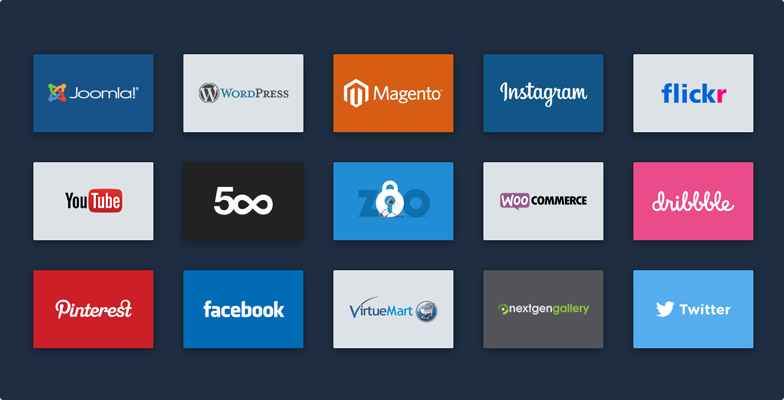 Seamless Dynamic Integration
Generate sliders from external sources and add dynamic content to each slide easily. All in all 39 dynamic generators.
General: Facebook Flickr Instagram YouTube Twitter Ecwid Pinterest Image from folder 500px Dribbble
Joomla: Joomla content, K2 items, EasyBlog posts, Ignite Gallery, Cobalt CCK, Phoca Gallery, redSHOP, VirtueMart, JoomShopping, MijoShop, EasyDiscuss, EasySocial, Eshop, HikaShop, JEvents, ODude, JReviews, JomSocial, Zoo, Flexicontent items.
WordPress: WordPress posts, WooCommerce, Events Manager ,The Events Calendar, All-in-One Event Calendar, NextGEN Gallery, Gallery by BestWebSoft, Web-Dorado Photo Gallery
Magento: Magento products
Extras
Built-in Lightbox (with image, video, iframe support and autoplay), built-in image editor (effects, frames, stickers, adjustments, crop, resize, draw and text tools and so on.), improved live preview, automatic update system, improved lazy loading, different responsive behaviors (adaptive, full width, full-page), dynamic height…
Services
Not just a new and better product, better services too. With your license key you will be able to update automatically or import our latest slider from our site. The new interactive documentation and the narrated videos help you to learn every little detail. And the support system will be so much more comfortable than before.
FAQ
When will the Smart Slider 3 be released?
Hopefully in the next few weeks.
Are the Smart Slider 2 and the Smart Slider 3 compatible?
No! The version 2 and 3 are not compatible. It has two simple reasons:
1, We don't want to force our users to upgrade because Smart Slider 2 still rocks.
2, The data structure of version 2 and 3 is totally different, and instead of the limitations we started a brand new thing.
What about my license for Smart Slider 2?
If you have an active license for Smart Slider 2 when we release the new version then you get it for free. On the other hand we're going to change our business plan it'll be simpler.
Is this the future of sliders? Really?
Yes. Really.
Next steps
As we continue through the year, we'll be building a number of amazing new features, while continuing to focus on 3 main areas: release the free version, release the theme developer version and last but not at least implement Smart Slider 3 to new platforms.
It's a brand new chapter in the history of Nextendweb, and we hope you'll join us on this journey.
Update
Here we gooo! Smart Slider 3 is now finally available for download!
Demo: http://smartslider3.com/
Also we released the best free WordPress slider: WordPress Plugin