WordPress version 4.5, Coleman, was released on April 12, 2016, causing headaches for website owners all around the world. Plugins stopped working, themes broke due to the updated jQuery library. Some developers were quick enough to release a fixed version of their product right after the update, some themes are still waiting for a fix. Fortunately, Smart Slider 3 wasn't affected by the update, but if one uses old themes and plugins that are not updated anymore, it's better to replace them to be able to update to WordPress 4.5. So apart from the issues after the release, is it worth upgrading to the latest version? Let's find out!

What's new in WordPress 4.5
When a WordPress update arrives, there are always useful, sometimes long-awaited features that will make the users' everyday job on working with WordPress easier.
Visual Editor Improvements
The first- and in my opinion- one of the most useful new features is being able to insert links to the currently edited post by using a simple AJAX search, where it is possible to search for keywords from the post itself. This is an easy and intuitive way to connect your posts and pages in your site. The link also accepts custom URLs, which is useful when you would like to take your users to some external pages.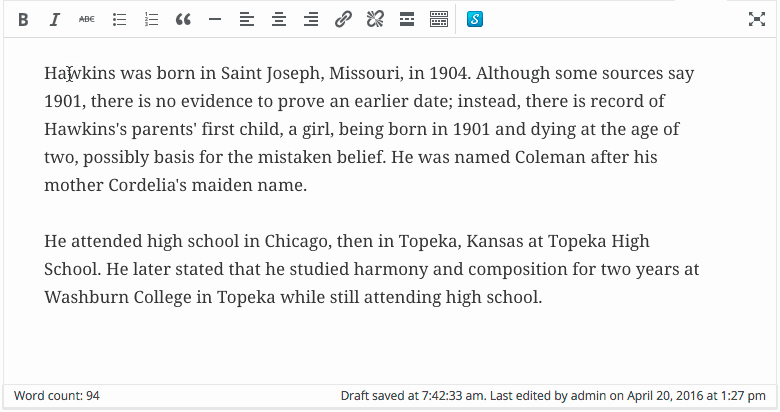 When the gear icon is clicked some additional options come up, which will be familiar from the older WordPress link editor version. This window is useful when external links are used. If this wasn't great enough, if a link has already already been added and you go back to it (using your keyboard or by clicking on its text), the link will be shown, and there will be no need to open the link options popup to check if the link is correct. Very useful!
New shortcuts
There are some other new features in WordPress 4.5 regarding the post or page editor: two new formatting shortcuts that can be used in the visual editor. One of them adds a new horizontal line <hr> to the page or post, when 3 or more dashes (minus signs) are added and enter is pressed, the other one creates a code block using the ` signs, just like this: `code˙.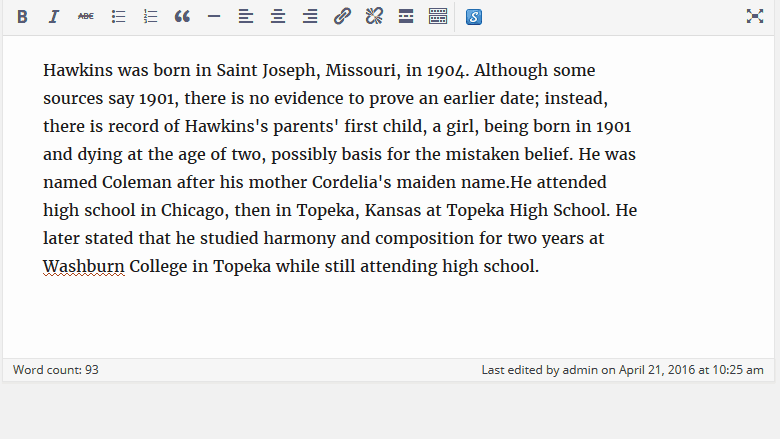 Live Responsive Preview in Customizer
Finally, the devices' specific preview have arrived to WordPress. It was about time, as mobile internet usage have surpassed the desktop usage back in 2014. Not that having responsive themes was an issue – most theme developers pay special attention to create their templates mobile friendly, especially if they plan to sell the theme, and get some income. Let's face it, it doesn't matter how beautiful and easy to use a theme is if it is not working well on mobile devices.
That being said, let's take a look at what WordPress 4.5 offers when it comes to showing how your site looks on mobile. At the bottom of the Customizer there is a desktop, tablet and mobile button, when clicked, each of them resizes the viewport respectively.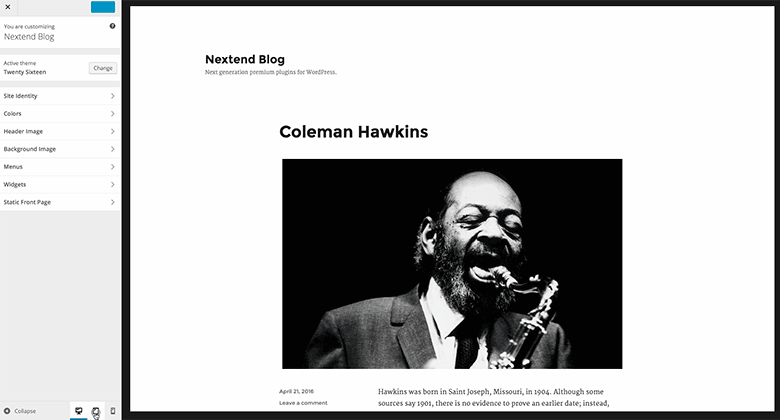 I can see a great potential in this new feature, and maybe in some future WordPress versions it will be possible to have device specific settings which could be used for example to change the text sizes, colors or positions for each device respectively.  Smart Slider 3 already has options to edit the slides for different devices, so I believe it would be welcomed if WordPress allowed this in its Customizer.
Also, when a specific part of the site is being customized, shift clicking on some other parts (e.g. menu items, widgets, site title) will open the corresponding customization options to that other element. Now that is something that can really save up time when one is making modification in their theme, as the Customizer can have lots of submenus where one can easily get lost.
Native theme logo support
WordPress 4.5 introduced the native theme logo support. What does that mean? If the theme supports a custom logo, there will be an option to select the logo using WordPress' Customizer.
Almost every theme gives the opportunity to select a logo, but all of them (when made by different theme developer companies) have different options for this. If all of the theme developers started using the native WordPress codes for logo selection, maybe, it would be possible to keep this setting when theme is changed, so it doesn't have to be selected each time. Paid themes aren't changed that often (except when they come with tons of importable templates), but when choosing from free themes, it can be a real time-saver.
Improvements under the hood
There are few things that aren't as obvious as the "search for the post" or the Customizer changes, but they're still worth mentioning. One of these is the image compression for custom image sizes. This feature reduces the file size of the uploaded image when it is resized to the smaller sizes WordPress and themes are using. (Some of these sizes can be set at the Media submenu of the WordPress Setting menu.) To demonstrate this improvement, I uploaded an image to a test site which is using WordPress 4.5 and an earlier version (4.4) and checked the result:
Original image dimension: 2618×1636
Original image file size: 682kb
| | | |
| --- | --- | --- |
| WordPress version | 4.5 | 4.4 |
| Resized image dimension 1 | 150×150 | 150×150 |
| Resized image file size 1 | 5kb | 7kb |
| Resized image dimension 2 | 1024×640 | 1024×640 |
| Resized image file size 2 | 57kb | 81kb |
This is a really great improvement, it will help a lot with the common speeding issues, without noticeable quality loss.
The script loader was enhanced, it supports the header/footer script dependencies better. New WordPress function: wp_add_inline_script() which enables adding extra code to registered scripts.
Worths or is not worth?
Some says WordPress 4.5 did not bring any major features, and I have to agree with that. No matter how great they are and how much potential is in them, the introduced features do not seem to be large enough to release 4.5 instead of 4.4.3. But overall, the new version is packed with useful features which are really useful, and offer lots of possibilities for future development.
For those who would upgrade using themes or plugins which were abandoned some time ago and still using those old codes upgrading to WordPress 4.5 will be really painful and digging into these old plugins and themes codes will most likely be required. Despite the amount of time needed to be spent to make the old stuff work, I would suggest upgrading to WordPress 4.5 mostly to have the better image optimization and the visual editor improvements and for security purpose.
During the writing of this article, two new WordPress versions was released. WordPress 4.5.1 (released in April 26, 2016) mainly come with minor bug fixes: the TinyMCE toolbar was unresponsive in version 50.0.2661.75 beta-m of Google Chrome, and one of the default WordPress templates (Twenty Eleven) had a widget style problem. WordPress version 4.5.2 was released in May 6, 2016, containing security fixes.
What does the future hold for the next big WordPress version, 4.6, WordPress 4.5's descendant? At this point it can only be guessed, but the features users are most interested in are better user management (especially being able to create user groups), possibility of creating unlimited sidebars, native multi-author support, https improvements and the list goes on and on. Whether they will be implemented or not, they seem to be incredibly interesting!
Our favorite links this week
We curate web design and development related content for you week by week. Useful, interesting and educational links that you might want to visit.