You can find plenty of plugins in the WordPress Plugin Directory, even for the same purposes. This may arises the question, which ones are those that you should clearly use?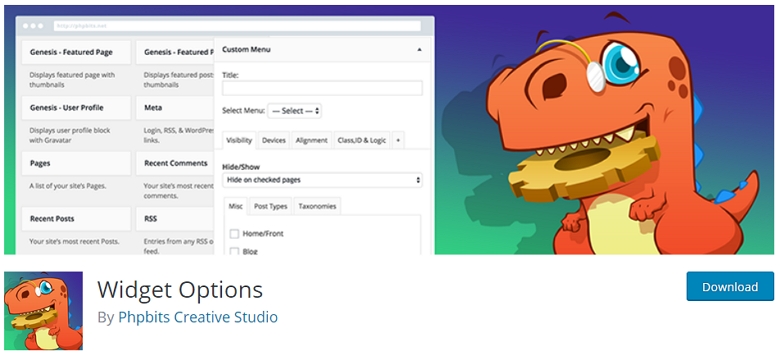 Widget Options is a powerful plugin, which extends the default widget settings with multiple options. With this plugin, you can set conditions on the widgets, that define where the widget shall be displayed and where not.
Here are some features from the Free version:
Hide/Show widget for:
Home/Front, Blog, Archives, 404, Search pages
Pages / Post Types
Taxonomies
Devices ( Desktop / Tablet / Mobile )
Logged-in / out users
Set:
Alignment for the widget
CSS ID and Class on the Widget
A typical use-case when this plugin can be a life saver, is when you want to publish content at a widget area, but you only want it to appear if certain conditions are met.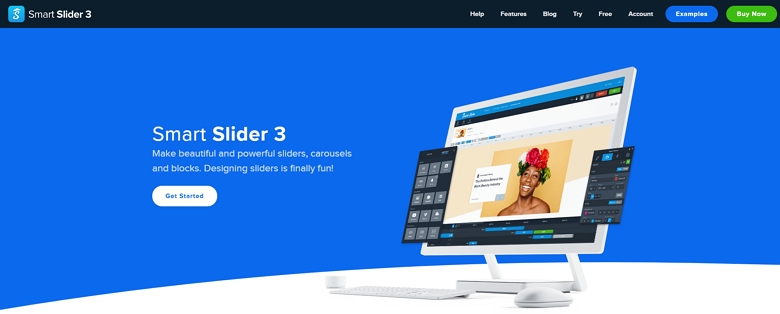 A well built, responsive and interactive slider can always catch the visitor's attention. Actually sliders are multi-functional tools, since they can be used for almost everything.
For example:
They can be used for displaying static data: text, image, video
Displaying animations*
If you have more specific needs, they can also show some information dynamically like: the contents of posts/pages, products*, events*. So as those records change, so it will in the slider.
If you already have a landing page, you can fill it up with sliders. So the whole landing page would consist of only sliders.
The plenty of documentations and the Basics / How To Build video play lists, will most likely help you creating a slider, that suit your needs.
The plugin has also a Pro version, with which you can enhance the experience even further. It offers extra layers, slider types, responsive modes, background animations, shape dividers, layer animations, pre-built slider and slide templates and many more.
*Some of the marked features are only available in the Pro version.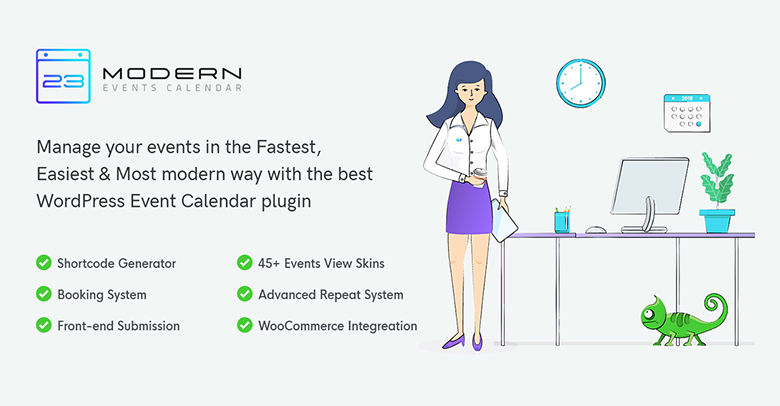 Modern Events Calendar is one of the best WordPress plugins that lets you create an awesome looking event calendar along with advanced features.
One of its distinguishing features is its super awesome design right out of the box. The design in this thing will save your day if you are not a design guy.
Also, it has all the features you need in a basic event management system. All kinds of event repeating, hourly schedule, organizer payments, WooCommerce Add to Cart and many more.
It Lite version is the Pro version of its rivals in terms of feature availability.
This WordPress event calendar offers even more in its Pro version, so if you need an advanced booking system, a ticketing system, practical add-ons and more you definitely need to go Pro.
Some of the Key Features
Create and publish unlimited events
Create Reusable Dynamic Event Locations and Organizers
Social Sharing Buttons
Detailed Plugin Settings
Compatibility with famous page builders

The PluginHive WooCommerce Bookings plugin unfolds your WooCommerce's capabilities and turns it into a Booking powerhouse. Clients/customers can easily select the period from the intuitive booking calendar, pick extra items and pay the final expense at checkout.
Prime features of the plugin:
Offer Hourly, Single/Multiple Days & Recurring bookings
Email Notifications & Reminders
Staff Management & Booking Availability
2-way Google Calendar Sync
Partial Payments & Security Deposits
Set Booking Discounts & Special prices
Multi-Lingual Support

Some of the users who read this article have already worked with shortcodes. Shortcodes in WordPress are quite useful. As it name suggests you type in a short code (between brackets) what will be processed by the code behind the shortcode and after that it can output the actual results. So you can achieve big things, with less effort.
This plugin is just the right example for this, since it offers multiple shortcodes for different purposes. The list is pretty long, but to mention a few of the the features:
tabs, accordion and spoiler,
button,
quote, highlight
media elements and map
capability to restrict access to certain content for Members or Guests
posts, menu, etc.
So the only thing you need to do is either selecting the shortcode type visually or typing it manually and Shortcodes Ultimate will do the rest of it.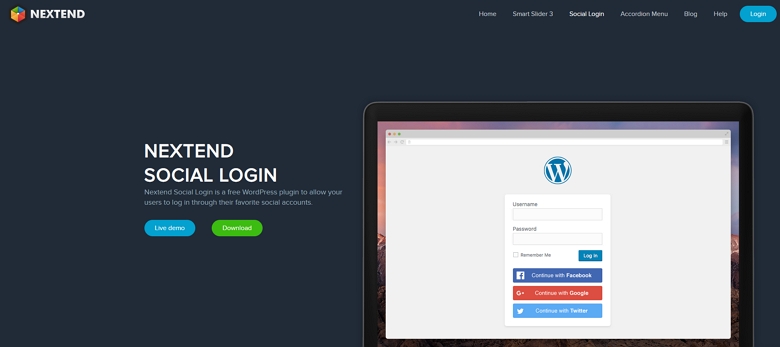 As it name suggest it is a plugin that allow the users on your WordPress website to login with their social accounts. Most website visitors usually prefer connecting to a website with a social account, since it saves time and energy. Also you don't have to keep in mind the different usernames and passwords combinations for each site!
The Free version includes Facebook, Google, and Twitter providers, however with the Pro Addon you can also unlock some additional ones like: LinkedIn, Amazon, VKontakte, Paypal, WordPress.com, Disqus and Yahoo.
Also if you like maintaining the control over the social login, you will welcome the features that allow you to:
disable the login in certain providers, for the certain roles
control whether the registration shall be enabled with social login or not
set roles for users who register with certain providers
redirect the user to a certain URL after a registration/login action
By using this plugin, your visitors will be grateful since they can avoid filling the same registration forms all the time.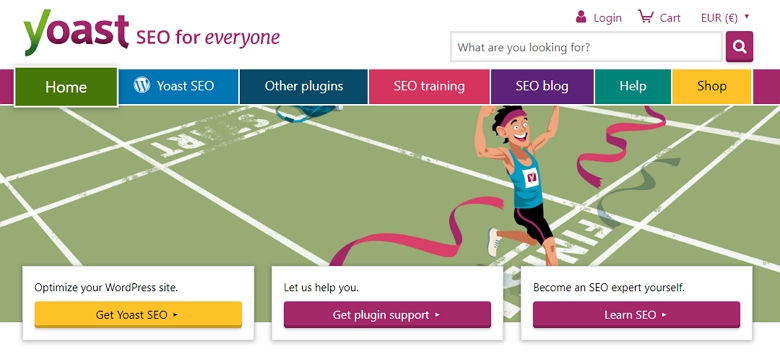 You can't have a successful website without doing some proper SEO. Yoast SEO is the most popular SEO plugin, and with a good reason. It offers the right amount of features to handle the technical parts of your SEO. For instance, you can set a SEO keyword for every post. You can also set the SEO title and meta tag for each post. You can also set the image, description and title of your post when someone shares it on Facebook or Twitter.
To help you create a good and SEO friendly content, the team behind Yoast runs a blog. They publish excellent articles to help you learn how to write SEO friendly content. Furthermore, they cover other important topics which is beneficial for your site's SEO
What's even more, Yoast SEO is perfectly integrated with Gutenberg editor. In fact, you can place it side by side with your content. As a result, you can get feedback on your SEO and readability analysis real time. With this analysis you can immediately make changes in your content.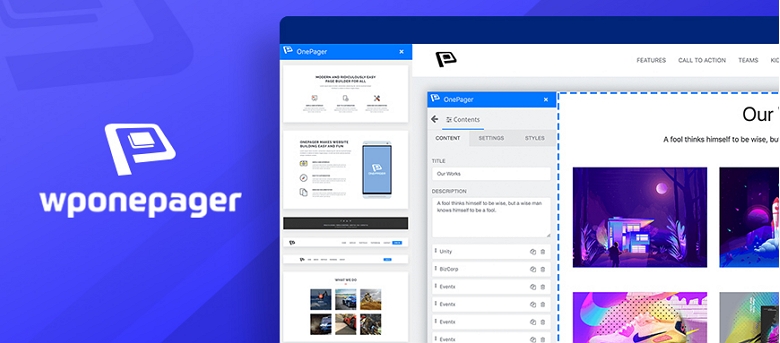 Now you can create any landing page by your self very easily and very quickly. You might be thinking how quick? Well, users of the WPOnepager say, it takes a maximum of 10 minutes to create a landing page. You don't need any elements or go through any complex procedures, just choose a readymade block and click the insert button.
It's beautiful blocks, templates, along with marvelous animations are sure to win your heart. WPOnepager is not only beautiful but also faster as it says. It comes with both free and pro version, you won't go for any other landing page builder after trying WPOnepager.
WPOnepager comes with a lot of features but the notable features are –
100+ premium blocks and templates.
One-click landing page build.
Uncompromising performance with lucrative animations.
SEO friendly.
Fullscreen blocks, coming soon blocks.
Dedicated support.

WooCommerce Product Feed Manager is a flawless product feed generator that helps you promote your products on Google Shopping, Amazon, Facebook Ads, eBay, and 35+ other popular marketplaces.
One of it's best features is Google Auto-sync that allows you to sync your WooCommerce products with Google Merchant Shop automatically. Plus it has the batch processing feature to help you generate thousands of products without any missing data.
You can use this guide to create and generate WooCommerce Google Product Feed using this plugin.
Some of it's key Features:
Auto-sync with Google Shopping
Category mapping
Extensive filter options
Custom fields for identifiers
Auto-update of feed
WPML support