One of the most common questions new site owners come across is "How do I login to WordPress?". They often have a hard time reaching the WordPress login page. As a result, they won't be able to work on their website. If you're in this situation as well, let me teach you how to login to WordPress.
How to login to WordPress?
To be able to login to your WordPress site, you need to reach the login page of WordPress. Say, your website URL is https://example.com. To be able to reach the login page, visit one of the following URLs:
https://example.com/admin
https://example.com/wp-admin
https://example.com/login
https://example.com/wp-login.php
All four URLs will take you to the same WordPress login page. After arriving at the page, you can type your username or email address and password to log in to your site.
What's the best way to make the WordPress login page easily accessible?
Having to remember either of the keywords above to be able to reach the login page can be frustrating. Luckily, there are some methods to make the login process easier. In fact, there's a way you can log in without having to remember your username and password.
1. Create a login link
The first option you have to make the login process easier is to insert a login link to one of your menus. Most themes have a menu area at the footer, which you could use for this. As a result, you'll have an easy way to access the login link, and it won't be in the main focus area of your visitors. So, it won't give them the impression that they can become members of your website.
To create a menu with a custom link, go to Appearance → Menus. Select your menu, then under Add menu items choose the Custom Links option. Type in the URL of the login page, set a link text and hide Add to Menu. This will add the custom menu item to your menu. Make sure you save your changes before leaving the page!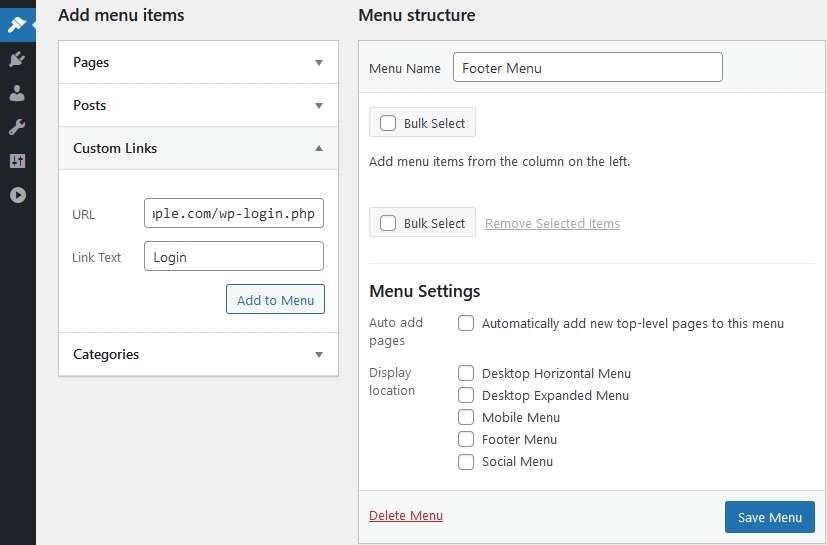 2. Use the Meta WordPress widget
There's a WordPress widget called "Meta" which includes a link to log into your website. So, if your theme has a widget area, you can place the Meta widget there. Please note that the Meta widget will create 4 links. The first one will take you to the login page, the second to the post feed, the third to the comment feed of your site. The last link is a link back to WordPress.org.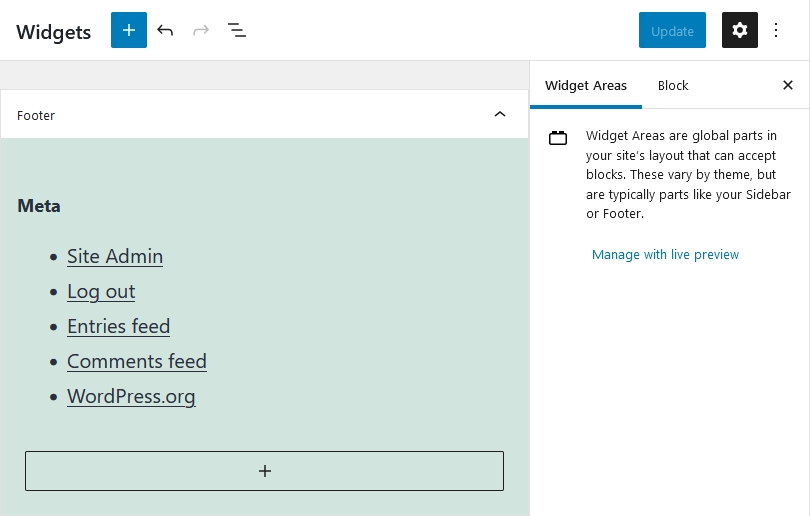 3. Creating a frontend login page
The WordPress login page can feel like it's not part of your website. If you have more sites, having the same looking page to log in can be confusing. For example, you might accidentally use the wrong login details. This can cause confusion and frustration, because you'll have trouble understanding what's wrong. To make the login easier, you can integrate the login form to your site. For example, plugins like Theme My Login or WordPress Login Form can make the login page feel like an actual part of your website.
How to improve the WordPress login experience?
When you login to WordPress, you go through the same process as when you login to other sites. So, you need to enter your username or email address and your password. This means you need to remember yet another complex password. In fact, for security reasons, you should always use unique and strong passwords. Therefore it can be challenging to remember your password for each site you have.
Do you want to make the login process simpler? Set up social login options! Using a social login, you can use your Facebook, Google, etc account to login to your website. As a result, you will not need to remember another username and password combination. In fact, you can set a super strong password, which makes your site safer, and you'll never need to use it again. Additionally, a social login can reduce the time and effort the login takes.
Why should you use a social login to access your site?
Social login lets you access your website without having to remember another password. In fact, logging into your site can take just one click. For example, let's say you have Facebook login on your site, and you're logged into Facebook in your browser. In this case clicking on the login button immediately logs you in to your WordPress site.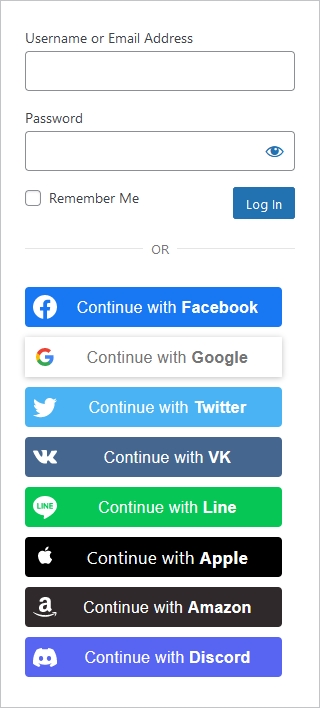 In other words, you will not have to type in any kind of email address or password. Facebook will log you into your website instantly. So, a social login makes logging into WordPress faster. Additionally, the login will be more secure as well.
How to enable social login for your site?
The simplest way to enable the social login on your website is using the Nextend Social Login plugin. It's free version lets you login with Facebook, Google and Twitter providers. If you want more social login options, there are 13 new providers in the Pro Addon. For example, Apple, Microsoft, LinkedIn and PayPal providers are available for you to use.
How do you display social login buttons on your site? First, you need to configure the provider you'd like to use. Of course you can find step by step instructions for each provider. After you finish the setup, the login buttons will appear on your WordPress login forms.
Creating a custom social login page
With the social login enabled you might want to forget about the default login process. To do so, you can create a new page and publish the social login buttons there. The simplest way to publish the buttons is to use their shortcode. If you don't want anyone else to create an account on your site, disable the registration. You can do so at Settings → General → Membership, making sure the Anyone can register is not checked.
Conclusion
As a WordPress site owner, it's always important for you to be able to login to WordPress anytime. Having to remember the WordPress login URL can be frustrating. Since all WordPress login pages look the same, it can be troublesome to use the correct details. To make your life simpler, you can add a social login to your site. As a result, you can make the login process faster, more comfortable and more secure.